HISTORY
Acclaimed writer Louis Nowra paints a dynamic portrait of Sydney through the city's colourful characters, landscape, architecture and global identity, and revels in the city's neon lights, music, skyscrapers and optimism.
Two Australian scientists played a vital yet largely unknown role in the Allied victory in the Second World War. Almost eight decades later, Wizards of Oz finally tells their story.
In Boundary Crossers, historian Meg Foster reveals the stories of bushrangers who didn't fit the mould. These bushrangers' remarkable lives have been forgotten, obscured, misrepresented or erased from the national story for over a century, and this is no accident. There is far more to these bushrangers, and their histories, than immediately meets the eye.
Henry Reynolds and Nicholas Clements uncover the extraordinary story of one of Australia's greatest military leaders.
A beautifully written and compelling book, this new edition of Sydney Harbour surveys the interactions between the glittering harbour and the people who have fished it, sailed on it, built at its edges, fought for it, portrayed it and marvelled at it.
Telling the story of the RAAF's No. 1 Fighter Wing – composed of both Australian and British Spitfire pilots – Darwin Spitfires explores the little-known 1943 season of air combat over the Top End, recovering important aspects of Australian history. It brings the heroic exploits of the skilled pilots who did so much to protect Australia to the world's attention.
BIOGRAPHY
In Elizabeth and John, Alan Atkinson, one of Australia's most respected historians, draws on his work on the Macarthur family over 50 years to explore the dynamics of their strong and sinewy marriage, and family life across two generations. With the truth of Elizabeth and John Macarthur's relationship much more complex and deeply human than other writers have suggested, Atkinson provides a finely drawn portrait of a powerful partnership.
An entertaining and inspiring biography of the trailblazing McDonagh sisters – Paulette, Phyllis and Isabel – who were the first women in Australia to form their own film production company and whose pioneering spirit transformed Australian cinema.
NATURE
Darryl Jones, author of Feeding the Birds at Your Table, reveals the not-so-secret lives of the most common birds that share our towns and cities. From blackbirds and sparrows in his childhood country town to brush-turkeys in the suburbs, he shares a fascinating story of curiosity, discovery, adventure and conflict, played out in the streets and backyards of Australia.
No matter where you look in Australia, you're more than likely to see a eucalyptus tree. Scrawny or majestic, smooth as pearl or rough as guts, they have defined a continent for millennia, and shaped the possibilities and imaginations of those who live among them.
POLITICS
The two-party system is disappearing, and the balance of power is shifting. While these changes might feel fragile, Tim Dunlop show us that we may just be on the precipice of a transformative era for democracy in Australia.
In Living Democracy, Greens activist Tim Hollo offers bold ideas and a positive vision. It's the end of the world as we know it, but it doesn't have to be the end of the world. In fact, around the globe, people and communities are beginning an exciting new journey.
This book will inspire you, inform you, and get you fired up to co-create our common future. A living democracy.
Many people think they can do a better job running a country than politicians – but few actually give it a go. What happens when political disagreement pushes to the point of no return? When a person has a dream of what their ideal country would be, and then tries to create it? A place where there is no monarchy, or no taxes, or no government regulation …
Provocations brings together Jeff Sparrow's best writing from the last two decades, alongside important new work. Challenging, humane and inspiring.
TRUE CRIME
In Suburban Noir Peter Doyle explores the everyday crime and catastrophe that went on in the fibro and brick veneers, the backyards, bedrooms, vacant lots and pokie palaces of 1950s and 1960s Sydney suburbia.
This dramatic tale of life, death and radical social change is told through the sixty-one men and one woman who met Nosey Bob, under the worst possible circumstances, when he served as a New South Wales executioner between 1876 and 1904.
SCIENCE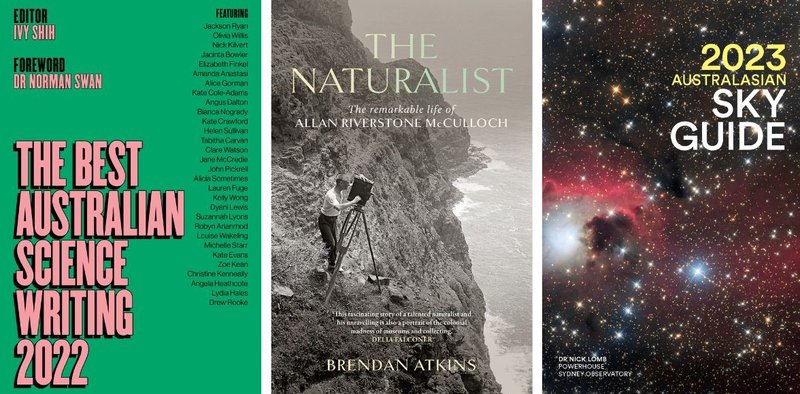 This much-loved anthology – now in its twelfth year – selects the most riveting, entertaining, poignant and fascinating science stories and essays from Australian writers, poets and scientists. With a foreword by health broadcaster and author Dr Norman Swan, this anthology covers another remarkable year filled with seismic moments in science.
In The Naturalist, Brendan Atkins explores McCulloch's scientific genius and artistic talents, and his crucial role in the development of the Australian Museum. It's a revealing and unflinching look at the remarkable life of a brilliant yet troubled scientist.
This popular guide by astronomer and author Dr Nick Lomb provides stargazers with everything they need to know about the southern night sky. It contains the latest information on the solar system, historical features, monthly sky maps, details of the year's exciting celestial events, and viewing tips for city dwellers.
CURRENT AFFAIRS
In Dark Winter, world-leading epidemiologist and biosecurity expert Raina MacIntyre provides insights into historical biological attacks, lab accidents and epidemics, and the COVID-19 pandemic. She reveals a recurrent theme of denial, silence and cover-up around unnatural epidemics and the powerful vested interests at play.
KIDS' BOOKS
Alphabetical Sydney turns ten!
This is our Sydney, the brightest and best of it,
North to the south to the east and the west of it.
Bats and cicadas, lawn bowls and the zoo,
This is our town. Let us share it with you.
This bestselling playful and vibrantly illustrated picture book celebrates Sydney in all its diversity — from A to Z.
Summer is here. Put your school shoes away,
The long, lazy days can begin.
Mangoes and magpies, municipal pools…
Take a deep breath and dive in.
The bestselling creators of Alphabetical Sydney and Numerical Street have created a stunning tribute to an Australian summer. Rich and evocative verse, paired with Pesenti's vibrant illustrations, explores ideas of time within the nostalgia and mythology of summer.