This Anzac Day, delve into these Australian military histories.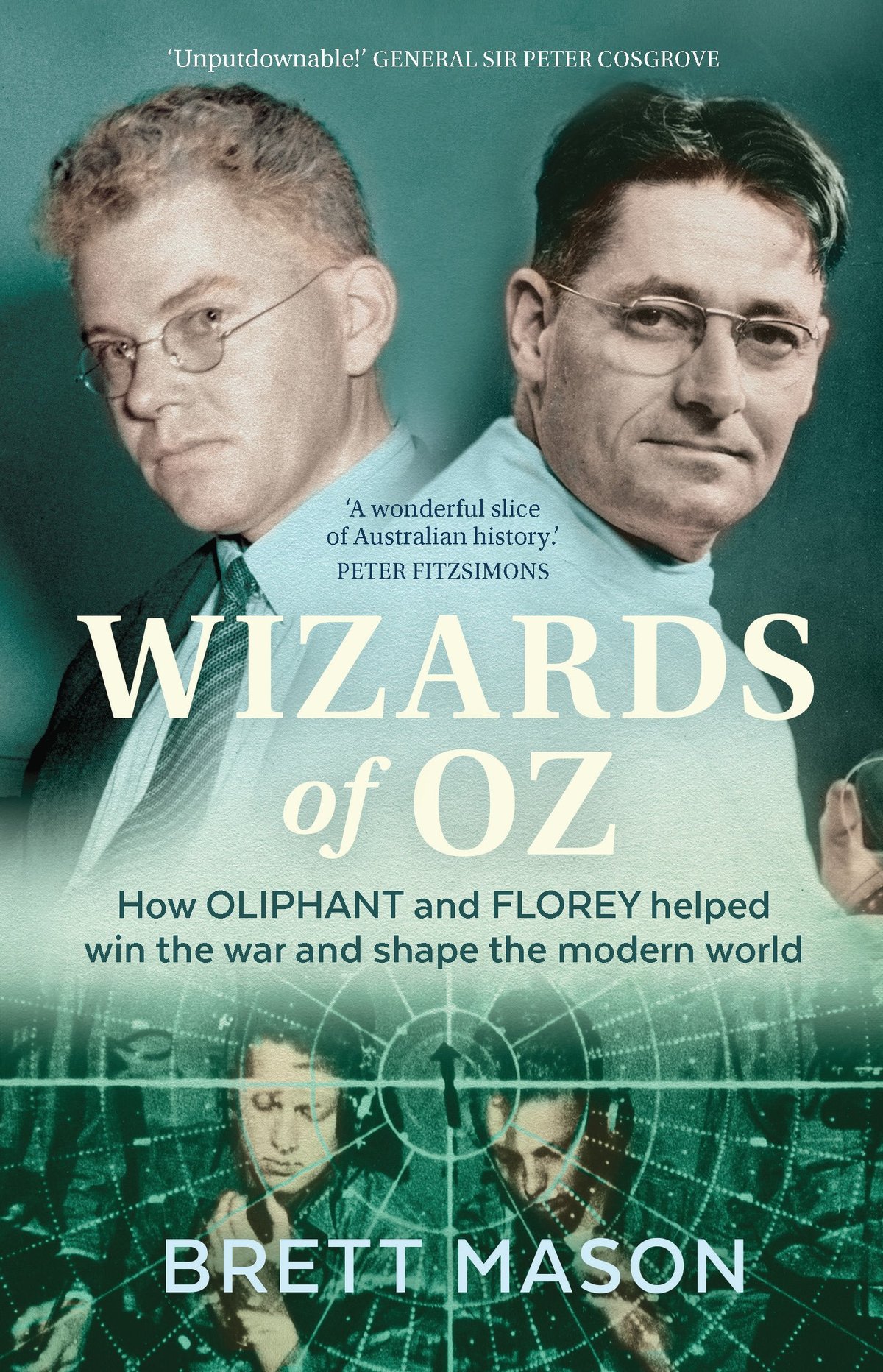 In this fast-paced and compelling book, Brett Mason reveals how childhood friends from Adelaide — physicist Mark Oliphant and medical researcher Howard Florey — initiated the most significant scientific and industrial projects of the Second World War: manufacturing penicillin, developing microwave radar and building the atomic bomb. These innovations gave the Allies the edge and ultimate victory over Germany and Japan.
More than just a story of scientific discovery, Wizards of Oz is a remarkable tale of secret missions, international intrigue and triumph against all odds. These two Australians not only helped win the war but shaped the peace, with their war-time contributions continuing to influence international politics and the health and wealth of nations. Oliphant and Florey emerge in Wizards of Oz as the two most consequential Australians of the Second World War — perhaps of all time.
In December 1943, five courageous correspondents join a British air raid on Berlin. They are Australians, Alf King from the Sydney Morning Herald and Norm Stockton from the Sydney Sun; Americans, Ed Murrow from CBS and Lowell Bennett from the International News Service; and Norwegian journalist and activist, Nordahl Grieg. Each is assigned to one of the 400 Lancaster bombers that fly into the hazardous skies over Germany on a single night. Of the five, only two land back at base to file their stories.
In Dispatch from Berlin, 1943, Anthony Cooper and Thorsten Perl uncover this incredible true story of life on both sides of the war.
Peter Stanley goes looking for the Lost Boys of Anzac: the men of the very first wave to land at dawn on 25 April 1915 and who died on that day. There were exactly 101 of them. They were the first to volunteer, the first to go into action, and the first of the 60,000 Australians killed in that conflict.
Lost Boys of Anzac traces who these men were, where they came from and why they came to volunteer for the AIF in 1914. It follows what happened to them in uniform and, using sources overlooked for nearly a century, uncovers where and how they died, on the ridges and gullies of Gallipoli – where most of them remain to this day. And we see how the Lost Boys were remembered by those who knew and loved them, and how they have since faded from memory. 
For almost two years the airspace over north-west Australia was routinely infiltrated by Japanese air raids, tallying about 70 in total. The 1942–43 air raids on Darwin constituted the only sustained and intensive direct assault on Australian territory in the whole of World War II.
Telling the story of the RAAF's No. 1 Fighter Wing – composed of both Australian and British Spitfire pilots – Darwin Spitfires explores the little-known 1943 season of air combat over the Top End, recovering important aspects of Australian history. It brings the heroic exploits of the skilled pilots who did so much to protect Australia to the world's attention.
Australia's involvement in East Timor from 1999–2000 was this nation's largest mission conducted under United Nations auspices, the single largest deployment of ADF personnel since the Second World War and an instrumental part of Timor-Leste gaining its independence. Critically, it was also one not nestled within a larger or lead nation's logistics and administrative support, and also the first time Australia had led such a large multi-national force. In short, International Force East Timor was the most complex politico-strategic challenge Australia had faced, at least since the 1940s.
Written from classified government sources and buttressed by hundreds of interviews with veterans and stakeholders, this first volume in the landmark Official History of Australian Operations in Iraq, Afghanistan and East Timor — Born of Fire and Ash — is an honest, challenging and compelling account of the 1999–2000 East Timor crisis and Australia's response to it. It tackles the good alongside the bad, successes and failures, to chart a complex 'truth' unknown to most Australians, then and now.
'We are at war with them,' wrote a Tasmanian settler in 1831. 'What we call their crime is what in a white man we should call patriotism.'
Australia is dotted with memorials to soldiers who fought in wars overseas. So why are there no official memorials or commemorations of the wars that were fought on Australian soil between First Nations people and white colonists? Why is it more controversial to talk about the frontier wars now than it was one hundred years ago? In this updated edition of Forgotten War, winner of the 2014 Victorian Premier's Award for non-fiction, influential historian Henry Reynolds makes it clear that there can be no reconciliation without acknowledging the wars fought on our own soil.
When journalist and historian Mark Dapin first interviewed Vietnam veterans and wrote about the war, he swallowed (and regurgitated) every popular misconception. He wasn't alone. In Australia's Vietnam, Dapin argues that every stage of Australia's Vietnam War has been misremembered and obscured by myth. He disproves claims that every national serviceman was a volunteer; questions the idea that Australian troops committed atrocities; debunks the fallacy that there were no welcome home parades until 1987; and rebuts the fable that returned soldiers were met by spitting protesters at Australian airports.
Australia's Vietnam is a major contribution to the understanding of Australia's experience of the war and will change the way we think about memory and military history.
Australia's official First World War correspondent, Charles Bean, saw more of the Australian Imperial Force's actions and battles on the Western Front than anyone. Bean's extensive private wartime diaries, held by the Australian War Memorial, form a unique and personal record of his experiences and observations throughout the war and were the basis of his monumental multi-volume official war history. While a selection of his diaries relating to the Gallipoli campaign have been available for some time, Bean's Western Front diaries are published here for the first time, edited by esteemed historian Peter Burness, and accompanied by over 500 remarkable photographs, sketches and maps.
This riveting book follows a small group of Australian front-line soldiers from their enlistment in the dark days of 1940 to the end of World War II.  Inspired by American historian Stephen Ambrose's landmark book, Band of Brothers, about the US Army's Easy Company of the 506th Regiment, Mark Johnston, one of our best military historians, here gives an Australian company the same treatment. Using the frank and detailed personal letters, diaries, and memoirs of three Australian soldiers, he brings to life their campaigns, battles, and interactions with their comrades and enemies. His book is a unique and powerful account of the everyday experiences of a small unit of Australian soldiers on the front line.
When Edith Blake missed out on joining the Australian Army, she was one of 130 Australian nurses allotted to the British Queen Alexandra's Imperial Military Nursing Service in early 1915. Her first posting was in Cairo where she nursed soldiers wounded at Gallipoli. In Edith's remarkable letters to her family back home, she shares her homesickness and frustration with military rules, along with the savagery of the injuries she witnessed in the operating theatre. Later, at Belmont War Hospital in Surrey, she writes of her conflicted feelings about nursing German prisoners of war even as battles on the Western Front raged and German aircraft bombed England.
In Edith Blake's War, her great niece, Krista Vane-Tempest, traces Edith's gripping story, from training in Sydney to her war service in the Middle East, England and the Mediterranean, and her tragic death in waters where Germany had promised the safe passage of hospital ships.